Fiberglass Gutter Installation
Gutter Pro Enterprises is thrilled to announce the addition of FiberGutter brand Fiberglass Gutters to our product offerings. These high-quality gutters are available in 4x5 and 4x6 sizes and can be installed on both new and existing homes throughout Massachusetts and Rhode Island.
Fiberglass Gutters were originally developed in the late 1990s as a low-maintenance alternative to traditional wood gutter systems. Today, they are known for their exceptional durability, corrosion resistance, minimal maintenance requirements, and stunning aesthetic appeal. Thanks to years of research and development, FiberGutter brand Fiberglass Gutters are now more cost-effective and stronger than ever before, ensuring that they will last a lifetime.
Make the switch to FiberGutter brand Fiberglass Gutters and enjoy the benefits of a low-maintenance, high-performance gutter system that will protect your home for years to come. Contact us today to schedule your installation.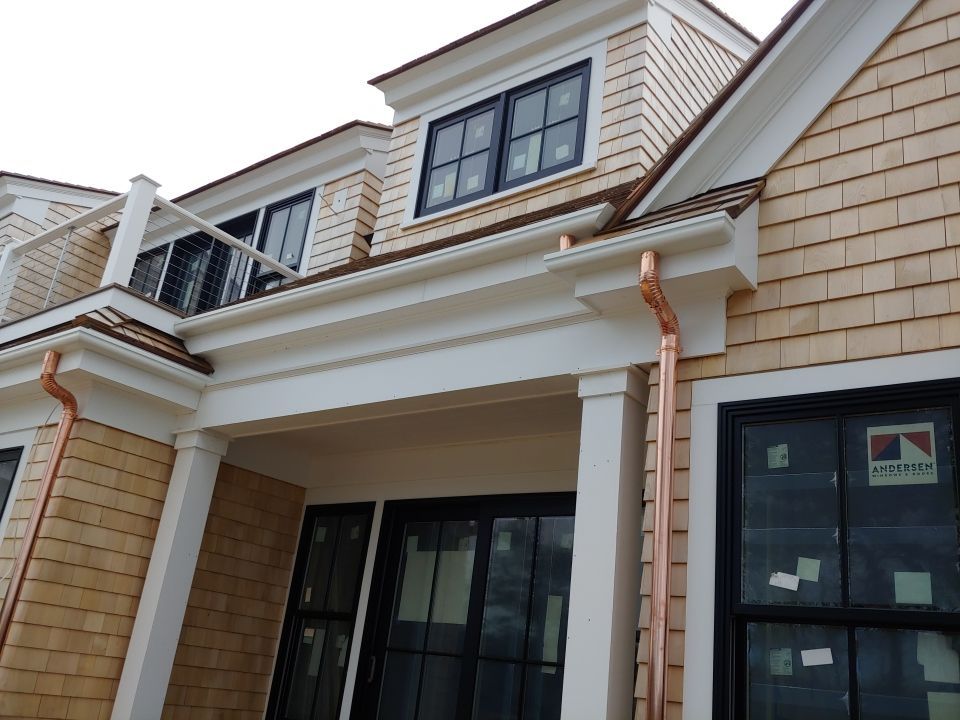 Why are Fiberglass Gutters Better?
FiberGutter brand Fiberglass Gutters are the ideal choice for homes in salt-air environments or with copper drip-edge or other copper details that are prone to premature corrosion with typical metal or aluminum gutter systems. Their resistance to rot and moisture damage makes them a superior option that will protect your home for years to come.
In addition to their corrosion-resistant properties, FiberGutter brand Fiberglass Gutters are highly impact-resistant, surpassing plastic, aluminum, and copper gutters in durability. This means you can rest easy knowing that your gutters will withstand even the harshest weather conditions and potential impacts.
Upgrade to FiberGutter brand Fiberglass Gutters and enjoy the peace of mind that comes with a high-performance gutter system that can withstand the elements and protect your home for years to come.
Fantastic Appearance-Minimal Expansion & Contraction
The proprietary formula for Fiberglass Gutter Does Not Have The Thermal Expansion And Contraction Issues of other composite products. The consistency of the product also allows the Seaming Between Pieces And At Mitered Corners to Form On A Molecular Level.
Technology Meets Tradition
Fiberglass Gutters were created to be a replacement product for Wood Gutters. In order to achieve that goal, it needs to Look Just Like Wooden Gutters.  Fibergutter is a direct representation of 4×5 and 4x6 Wood Gutter without the maintenance issues of a Wood Gutter System.
FiberGutter is manufactured in the United States through a process called pultrusion . Pultrusion is a continuous process whereby reinforcing fibers are first pulled through a resin bath, then into a shaping and forming guide system, and finally into a die – where the product is generally heated and cured to its nominal dimensions. The result is a Consistent, Uniform, and Structurally-Superior piece of rain gutter.
Structural stainless screws have proven to be the Best And Longest-Lasting Fastener to use when hanging FiberGutter brand Fiberglass Gutter. The self-drilling point before the threads allows our gutter to be installed without pre-drilling – and resists cracking during installation.
FIND OUT HOW MUCH YOU CAN SAVE:
FIND OUT HOW MUCH YOU CAN SAVE: